Do you fit this description?
You feel like you waste your lunch breaks reading mindless Facebook posts.
You're a virtualization junkie.
You want to get involved in the VMware community but don't know how.
Ok, so you don't have to be a junkie but I'm going to share a little secret. Cloudcredibility.com Do yourself a favor and go there as soon as you're done reading this.
Cloud Cred is your runway to getting involved with the VMware community, and it feels more like a game than a chore. Once you set up an account you have a ton of tasks to choose from and the completion of each will get you points. Tasks can be anything from taking a quiz on a particular technology, to channeling your inner artist by creating a sculpture out of retired hard drives. A lot of the tasks are community focused. You can simply Tweet about a VMUG you're attending (attending a VMUG meeting is worth 100 points), teach a high school or college-level class on cloud computing, take a fellow VMware user out to lunch, or you could host your own podcast! How you earn your points is up to you because each task is organized into various categories.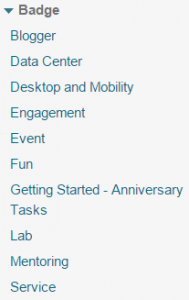 Just like collecting tickets at the local arcade, points can be redeemed for T-shirts, hats, laptops, Beats headphones, and even TV's. Take my word for it, Cloud Credibility is a ton of fun. On Tuesdays the Cloud Cred staff pick a number of tasks that are worth triple points. Oh yeah, triple-point Tuesdays!!! So head there now instead of scrolling through Facebook.