Performance overview charts are important to any vSphere admin's life. I often use these as a starting point to troubleshoot contention issues, utilizing advanced charts after consulting the overview. It wasn't long after upgrading our Windows vCenter server from 5.5 to 6.0 that we noticed we could no longer view performance overviews for any object. Hosts, and VM's would return "Performance Charts service returned an invalid response" error message.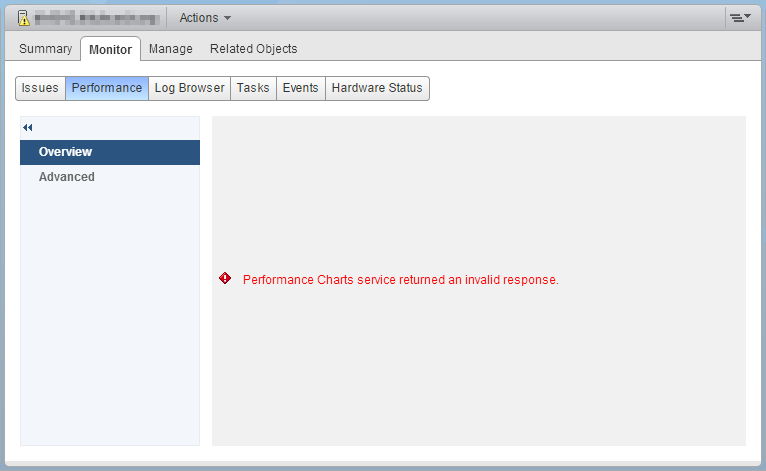 This would only happen if we logged in with our domain credentials. As a temporary work around we could log in under our @vsphere.local accounts to view the overview stats. Advanced stats worked regardless of which account we'd use.
After working with VMware support for some time on this issue, the following fix was identified and was successful in returning this important functionality.
Open C:\ProgramData\VMware\vCenterServer\data\perfcharts\tc-instance\conf\server.xml
Append the following to both the ipv4 and ipv6 configuration sections…
maxHttpHeaderSize="65536"

For example my configuration looks like this…
<!-- IPv4 configuration -->
        <Connector address="127.0.0.1"
                   acceptCount="300"
                   maxThreads="300"
                   connectionTimeout="20000"
                   executor="tomcatThreadPool"
                   maxKeepAliveRequests="15"
                   port="${bio.http.port}"
		   maxHttpHeaderSize="65536"
                   protocol="org.apache.coyote.http11.Http11Protocol"/>
        <!-- IPv6 configuration -->
        <Connector address="::1"
                   acceptCount="300"
                   maxThreads="300"
                   connectionTimeout="20000"
                   executor="tomcatThreadPool"
                   maxKeepAliveRequests="15"
                   port="${bio.http.port}"
		   maxHttpHeaderSize="65536"
                   protocol="org.apache.coyote.http11.Http11Protocol"/>
Then restart the VMware Performance Charts service via services.msc or by executing the following from an administrative command prompt…
C:\Program Files\VMware\vCenter Server\bin\service-control --stop vmware-perfcharts
C:\Program Files\VMware\vCenter Server\bin\service-control --start vmware-perfcharts