UPDATE: VMRC is now available!
One of the reasons I keep holding on to the C# client is the fact that I can do so many common functions from within the VM console. The web console leaves me wanting more than just ctrl + alt +delete and full screen. I usually have both the C# client and the web client running simultaneously at any given time. Does this sound familiar?
Late 2013 Google made an announcement that it will completely remove Netscape Plugin API support in Chrome at the end of 2014. That means you may no longer be able to use the VM console provided in the vSphere Client Integration Plugin. If you're in the same boat as me when it comes to choosing your remote console, listen up.
In vCenter 5.5 Update 2b, VMware is bringing back the VMware Remote Console (VMRC). As you can see below there are two new options right below the VM's thumbnail. Open with VMRC and download VMRC.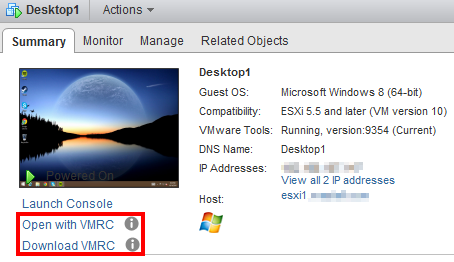 Unfortunately the new console wasn't ready in time for the release of Update 2b and as of the writing of this article the Download VMRC link just takes you to this KB article. The article reads "In response to the deprecation of NPAPI, VMware will be releasing the VMware Remote Console (VMRC) as a standalone application for Windows that can be used in conjunction with VMware vSphere Web Client which is bundled with vCenter Server 5.5 Update 2b and later versions."
Hold tight, pretty soon you and I will have one more reason to say goodbye to our old fat client friend.